Wireless 4 In 1 Charge Stand for iPhone, Apple Watch, Airpods, Qi Wireless Charging Device Fast Charging
Please Note: The adapter only available in United States Standard Plug, if you are from other regions, please DO NOT select it. You can use a PD fast charging adapter instead. 
4 in 1 design: Charge 2 phones, 1 Apple Watch, and 1 AirPods at the same time with one charging base. 
3 wireless charging dock: 1 for apple watch, 2 for phones (not just iPhone, it can charge all devices supporting Qi wireless charging protocol, and you can also use it to Airpods wirelessly)
Stand phone charger: angle adjustable, you can enjoy your favorite content in the most comfortable posture while charging. 
Fast charging supported: the stand phone charger is compatible with 15W/10W/7.5W/5W wireless charging, allow you to charge your phone faster. 
Watch full-screen video while charging: the stand phone charging dock allows you to charge your phone horizontally and vertically, so you can enjoy a full-screen video while charging.
Foldable design: The stand phone charger can be folded for easy carry.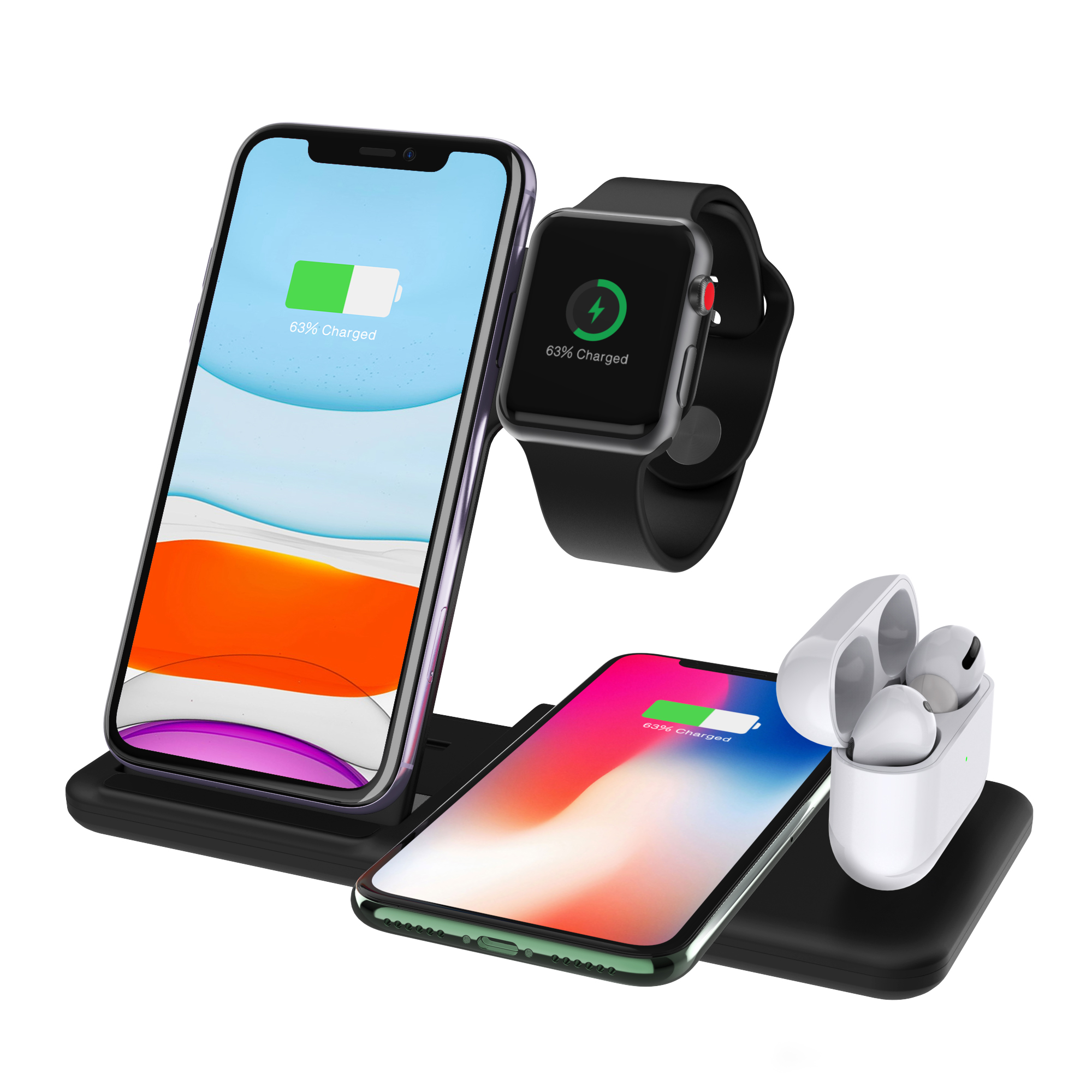 Charge up to 4 mobile devices at the same time. This wireless charging base makes your desk, bedside table, and luggage tidier than ever. No more tangled data cables, no need for various charging heads, no need to worry about insufficient sockets, this 4-in-1 wireless charging base is the best charging solution for your smart age.
This nice designed charge base offers 4 charging docks:
1*fast-charging wireless dock with angle adjustable stand, compatible with 15W/10W/7.5W/5W wireless charging, suitable for a lot of phone models 
1* 5W wireless charge dock for phone and Qi Standard wireless charging device
1* 2W Wireless charge dock for Apple watch
1* build-in Lightning charge dock for Airpods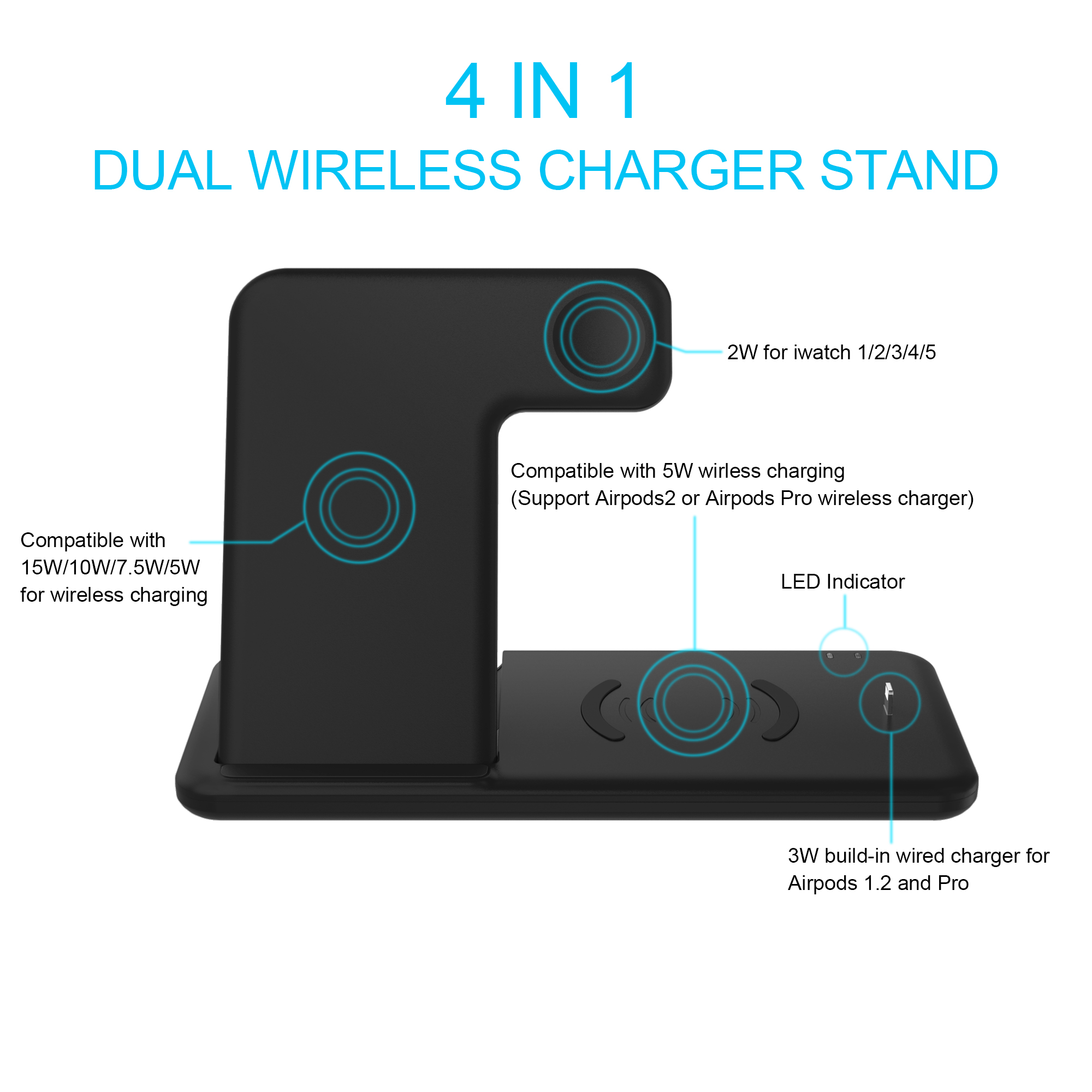 This charging base is compatible with a large number of popular mobile phone models, such as iPhone 11 Pro Max, iPhone 11 Pro, iPhone 11, iPhone Xs Max, iPhone Xs, iPhone XR, iPhone 8 Plus, iPhone 8, Samsung Note10/10+, Note 9, S10/S10+, S9/S9+, S8/S8+, and it also support other brands like Huawei, Oppo, Vivo, Xiaomi and One Plus.
The watch charge dock compatible with Apple watch 1/2/3/4/5
And the Lightning dock can charge Airpods 1/2/Pro, besides, you can also charge your Airpods pro/2(wireless charge edition) with the 5W wireless charge dock
The stand charger offers wireless fast charge up to 15W, if your phone supports fast charge, you can charge it much faster with this dock.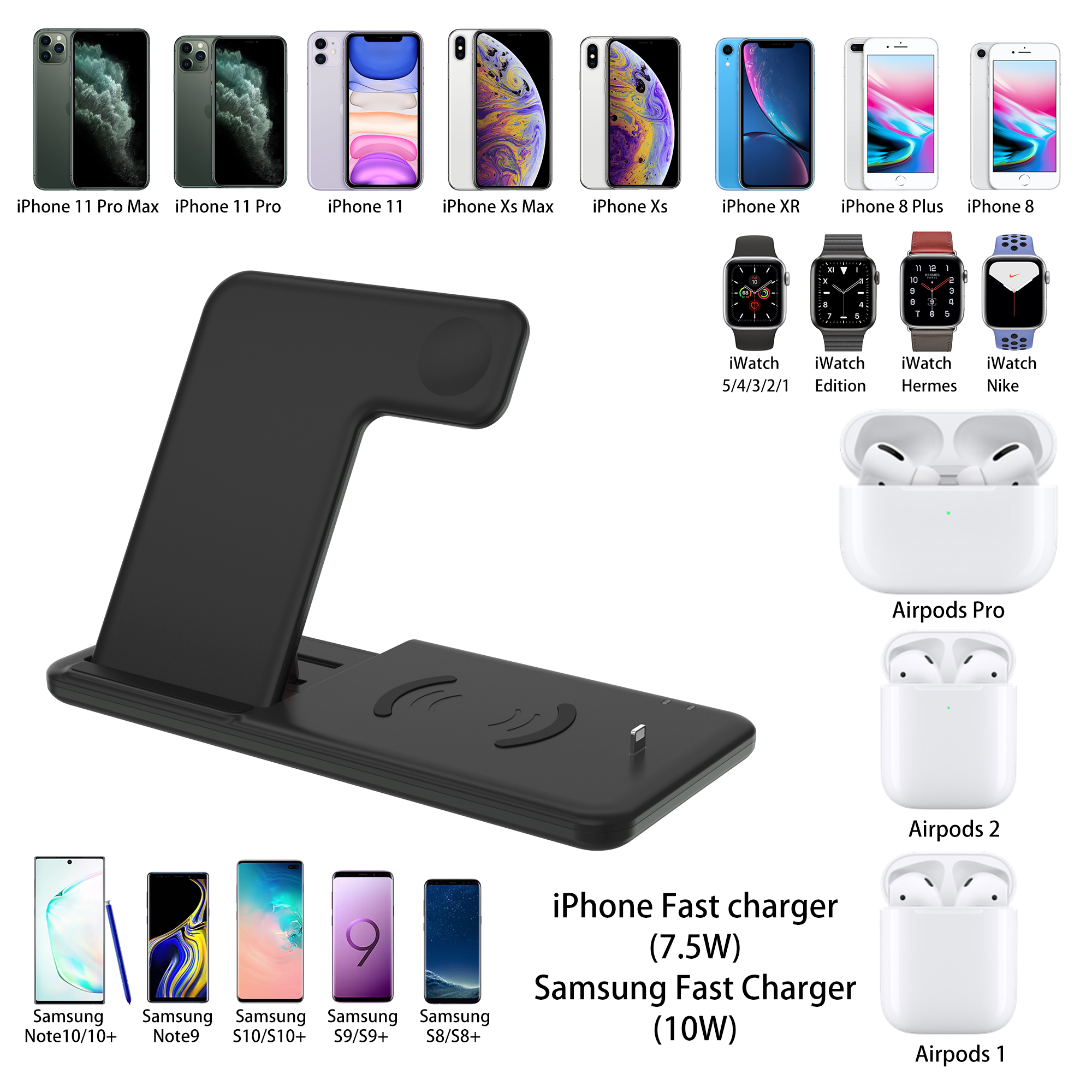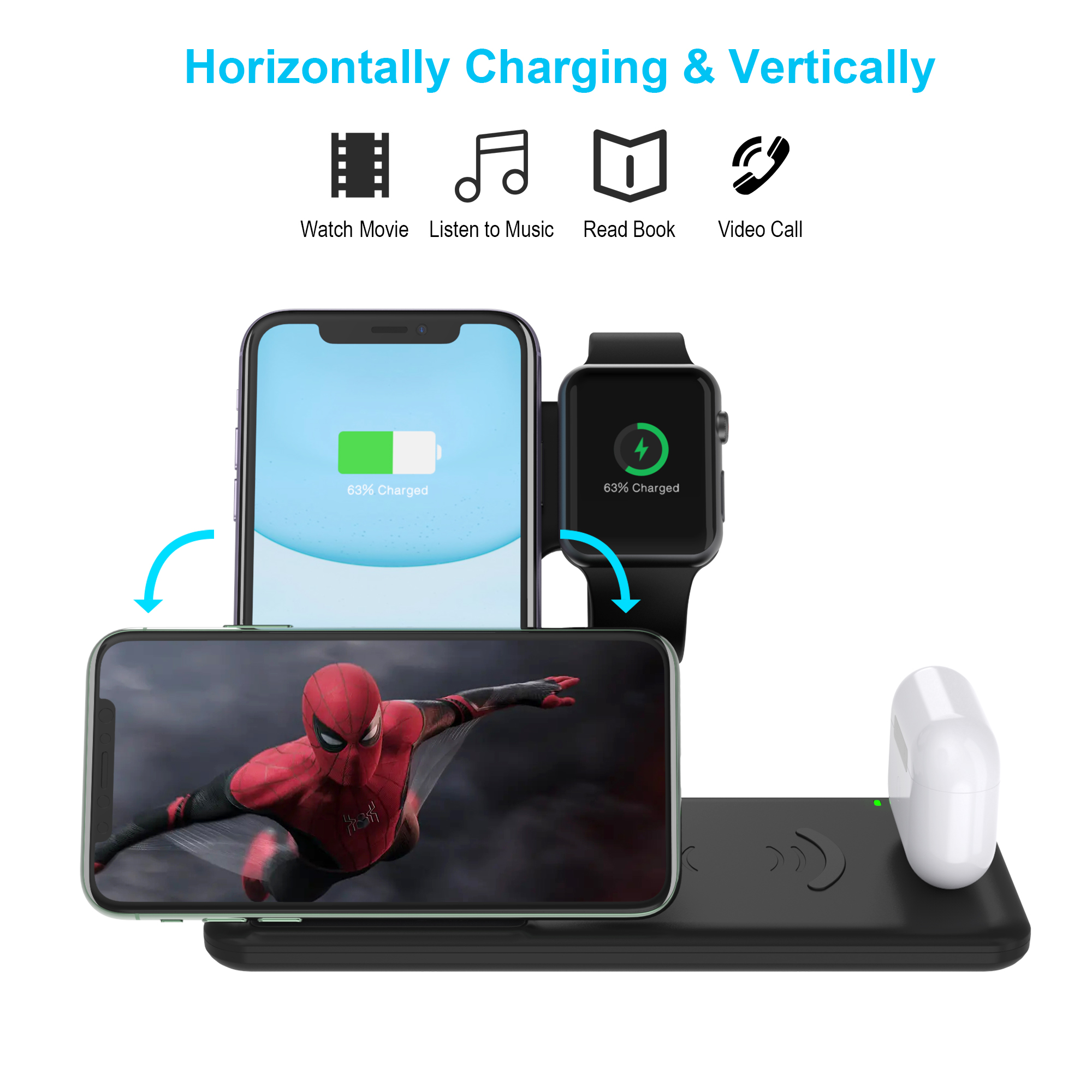 The stand charger is foldable, after folding, its size is you can carry it in your backpack easily, and the angle of the stand is adjustable,  you can always enjoy your favorite content in the best angle when charging.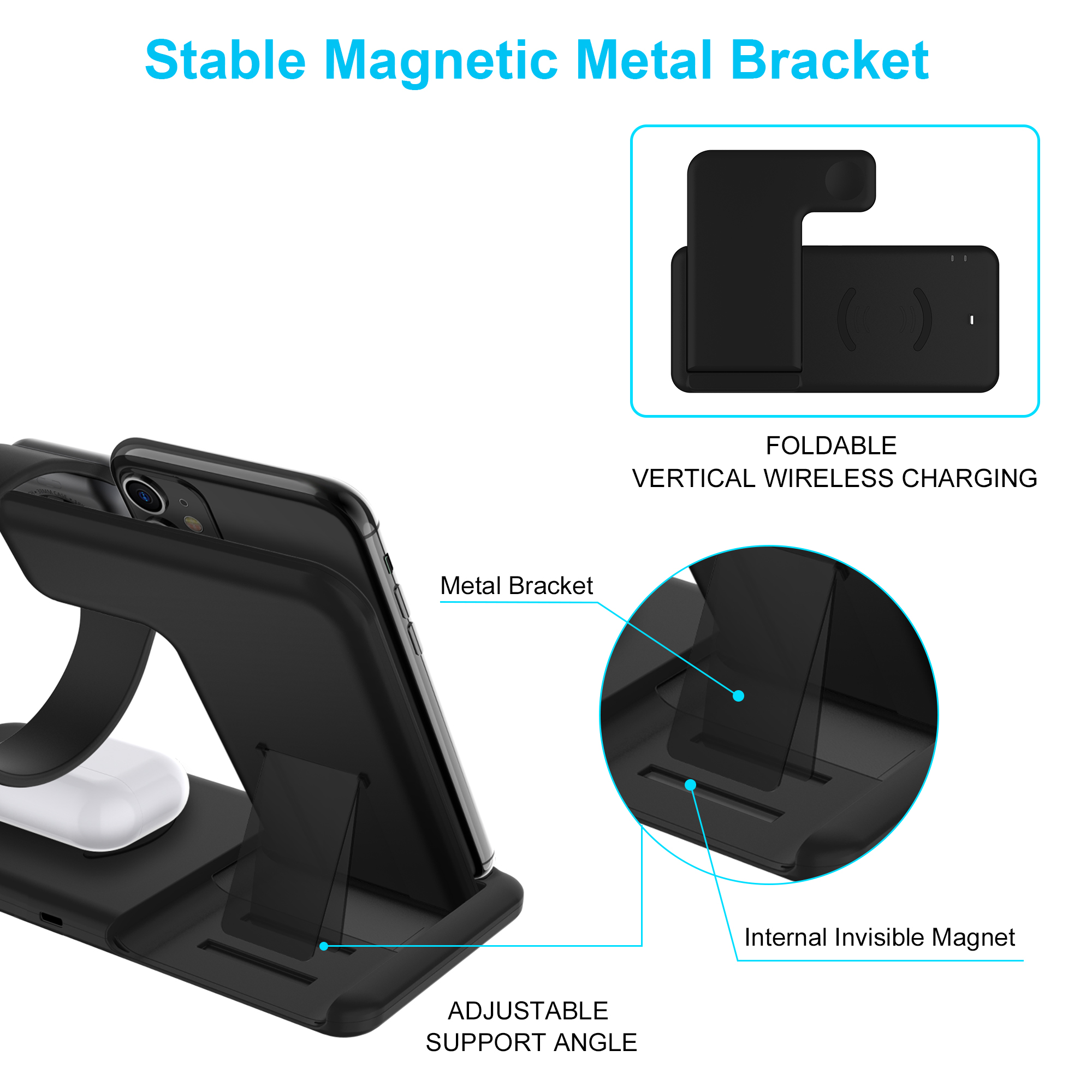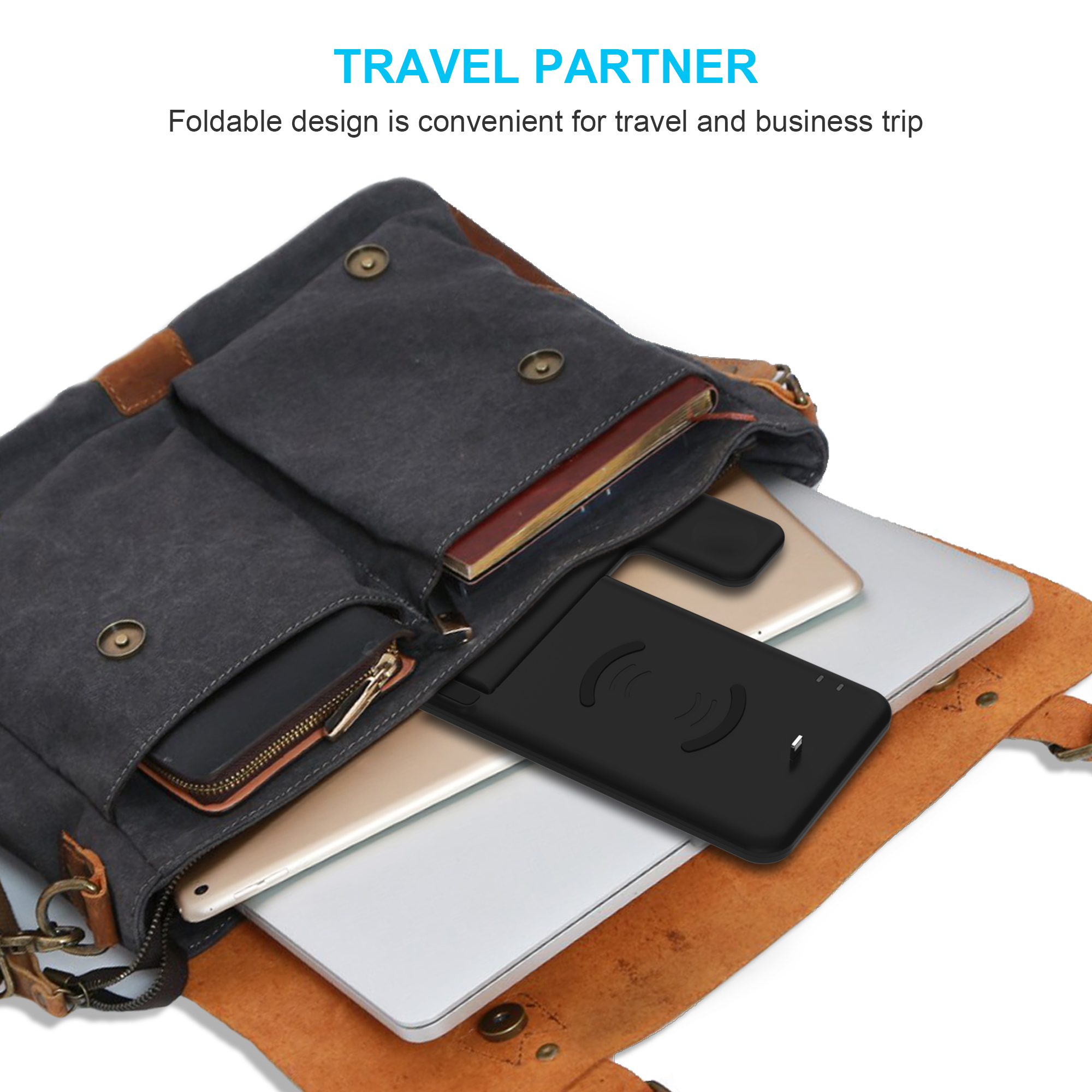 Note:
To make full use of the stand:
To charge 2 phones + Apple watch+Airpods, 9V, 3A adaptor is required. 
To charge 1 phone + Apple watch + Airpods, 9V, 2A adaptor is required. 
If you do not have this type of adaptor, you can purchase the adaptor along with the stand (please refer to the following image)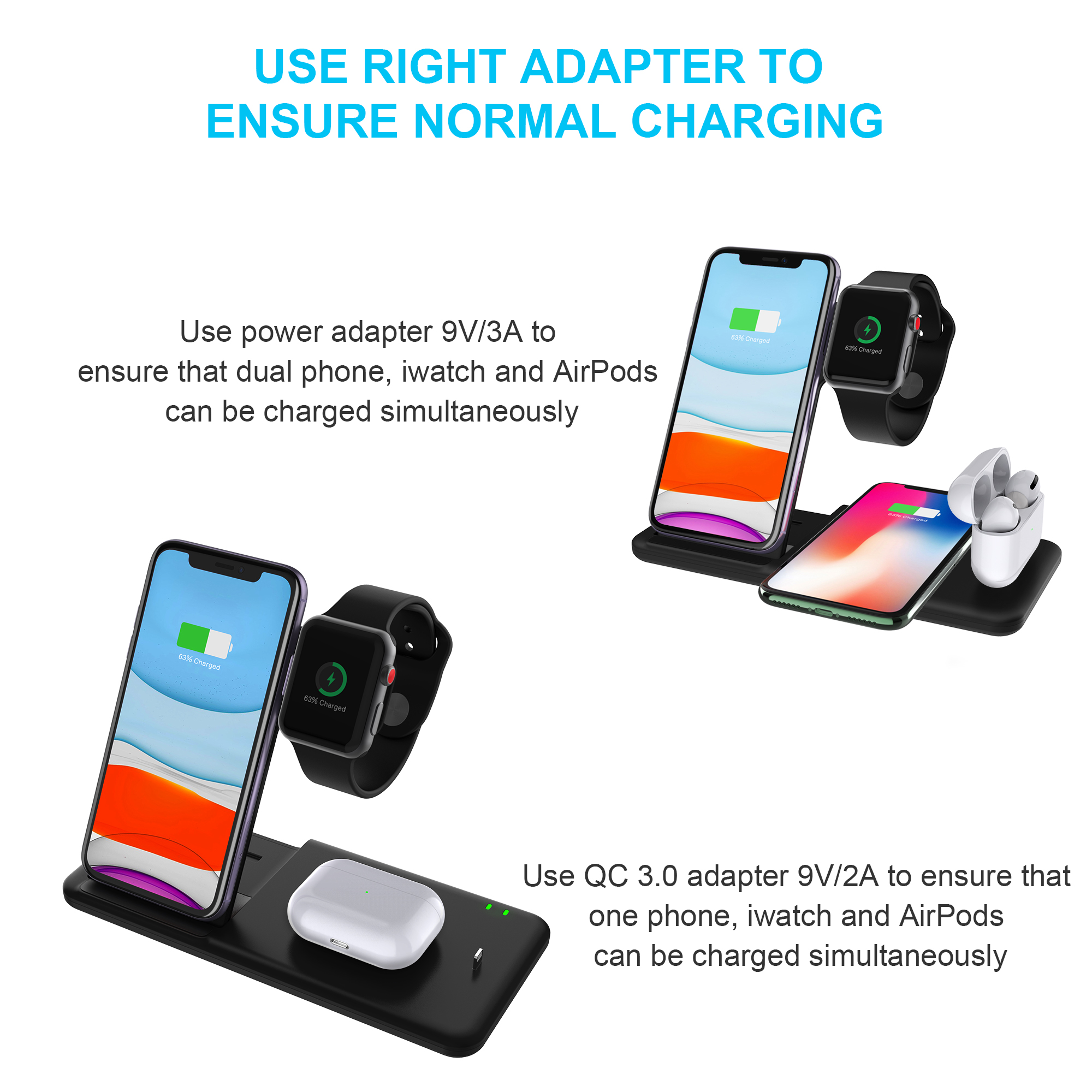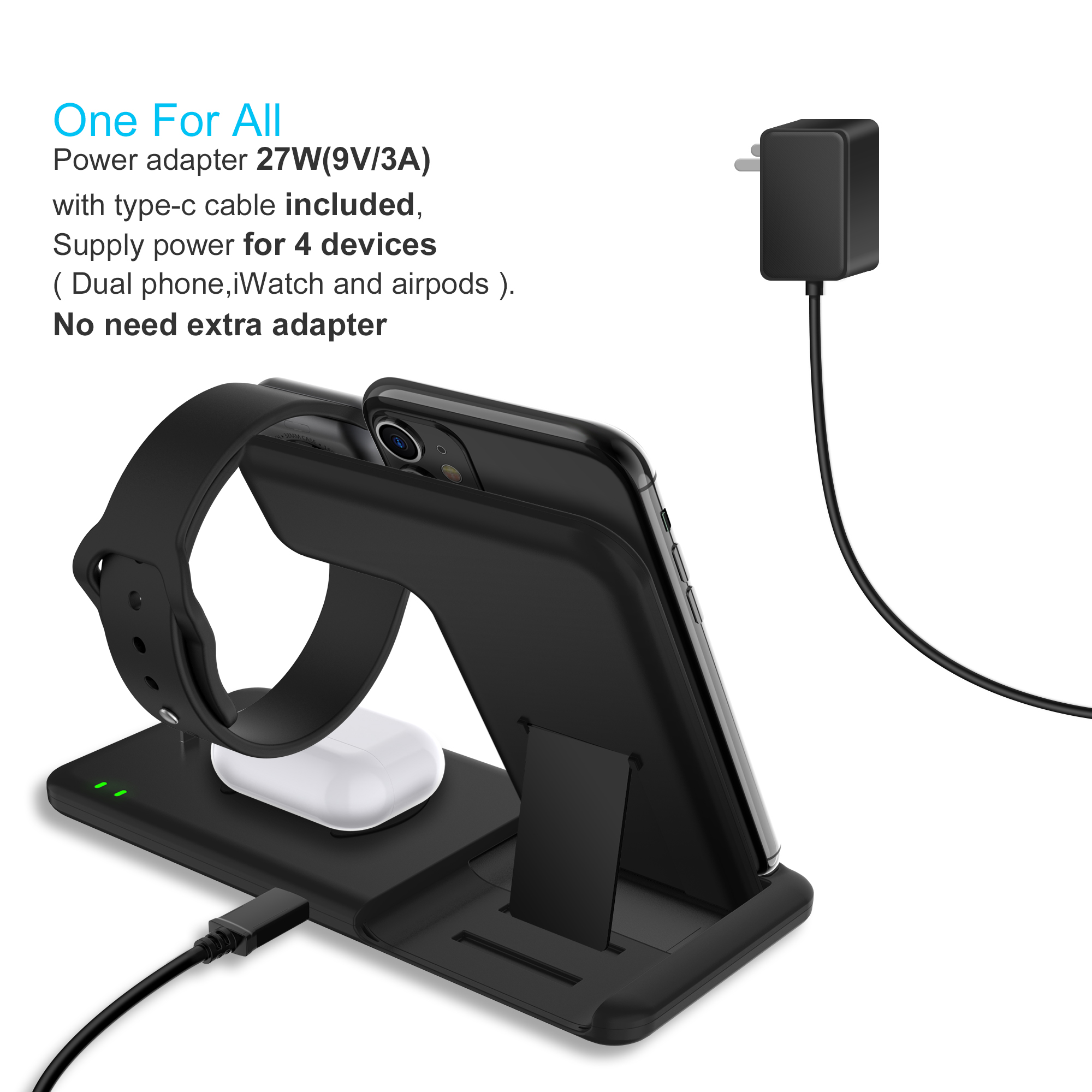 ---
We Also Recommend
---